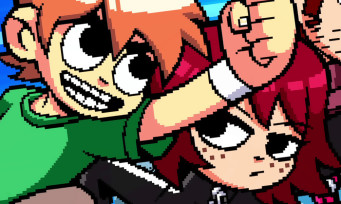 To celebrate the release of the Complete Edition of
Scott Pilgrim vs. The World: The Game, Ubisoft invites us to discover the launch trailer of a game that is back on the front of the stage more than 10 years after its initial release. Become a cult beat'em all, Scott Pilgrim vs. The World: The Game was first released on PS3 and Xbox 360 in 2010 and returns with all the bonuses that came out afterwards. If Scott Pilgrim vs. The World: The Game – Complete Edition is already available on PC, PS4, Xbox One, Nintendo Switch and Stadia for 14.99 €, know that it is backwards compatible on PS5 and Xbox Series X | S. Better, from today,
Friday January 15th at 4pm, it is possible to pre-order the limited physical editions of the game,
thanks to Limited Run Games
. Inside, a copy of the game, but also new goodies.
Players will be able to choose from three different limited editions:
The Standard Edition ($ 34.99) : Includes a reversible jacket with new artwork from artist Mariel Cartwright, who worked on the original game, and Bryan Lee O'Malley, creator of the Scott Pilgrim comic book series, a "Leo's Place" ticket stub as well as an instruction booklet in color.
The Classic Edition ($ 54.99) : includes the standard version of the game, a retro deluxe box, a CD with the original game soundtrack composed by Anamanaguchi, a map of the game world as well as a sticker sheet.
The KO Edition ($ 139.99) : Includes the Classic Edition, "Sex Bob-omb" guitar picks, drum sticks, tape with tape – original game sound, a set of seven deluxe glossy collectible cards, plus a book written by Jeremy Parish. The various items of the K.O. Edition will be delivered in an authentic roadie case which, when opened, will reveal a 3D pop-up scene with light and sound effects.