The Razer Viper 8K comes in attractive, eco-friendly packaging, a sign that Razer's environmental commitments are not just empty words. The outer box is made without plastic (with a ribbon to hang it), and without glue, since it is only a sheet of cardboard folded with science like an origami, which avoids the use of glue . Once this packaging is removed, a recycled cardboard box opens up to our eyes, and allows us to discover the usual documentation and stickers, as well as the mouse, carefully packaged in a small fabric pouch. In short, a nice bundle that smacks of respect for the material, but also that of the most demanding customers. Once stripped of its casing, the Viper 8K impresses with its extremely contained weight. Pure wired mouse, and whose frills are reduced to a minimum, the Viper admits 71g on the scale, which makes it one of the lightest models on the market, unless you take a look at the models with Gruyere-style chassis. .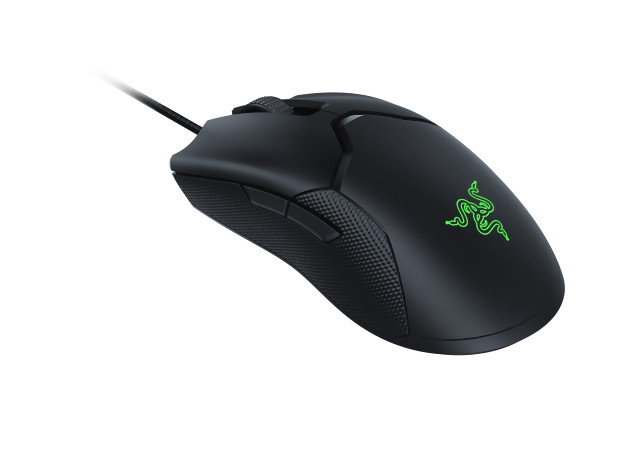 The shape of the mouse does not change one iota, which should to please Viper enthusiasts. The mouse is always ambidextrous, and offers 8 programmable buttons, 6 of which are actually usable (difficult to use the edge buttons when you are right-handed, and vice versa for left-handed people). That said, the goal here is to offer the bare essentials to Counter-Strike and Quake pros, and not to offer a lot of macro possibilities to less edgy fans of titles. The mouse also retains its textured rubber side grips to ensure an above reproach grip. To guarantee maximum speed, the featherweight of this field mouse is accompanied by two large PTFE pads (Teflon for close friends), but also a cable sheathed with a specific fabric offering minimum rigidity and limiting friction, called Razer Speedflex. In fact, once in play, the Viper 8K is completely forgotten, and you quickly understand the potential it can have in expert hands.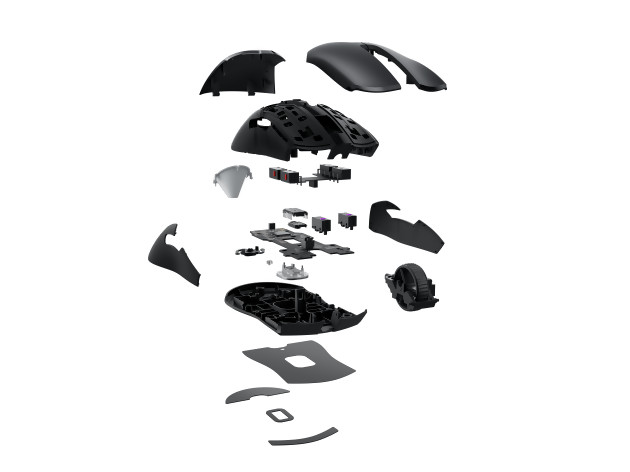 To be able to follow supersonic movements, the mouse contains an optical sensor 20,000 DPI house Focus + which is able to automatically calibrate itself according to your playing surface, in order to offer a hyper constant lift-off distance (the altitude where the sensor stops following the movement of the mouse). Better still, thanks to asymmetric cut-off technology, we can adjust the height at which the sensor will resume its work, knowing that the lift-off and the cut-off can be different. In short, we will docn be entitled to the best in terms of tracking, but also in terms of polling rate, which gave its name) to this mouse. Polling is the frequency with which your mouse sends information to your PC, and inevitably, the more often it is, the more precise and responsive the mouse will be. Gaming mice typically offer 1000Hz of polling (1000 communications per second), while the more efficient models display 4000Hz. For this Viper, Razer therefore offers the best on the market with 8000Hz polling rate, or 8KHz, hence the name 8K. Of course, you'll have to be used to super fast games, and have a screen with a hell of a refresh rate before you can see the difference, but at 240Hz, you can actually see an improvement.
Clicks are not forgotten with the second generation of Razer optical switches. The latter offer no play, and allow even more responsiveness compared to conventional mechanical switches of the Omron type. Better know that these mechanisms are guaranteed for 70 million clicks, which should offer a nice life to this Viper 8K. With so much cutting-edge hardware, Razer limited itself to the Chroma RGB effects, as only the mouse logo lights up, still with 16.8 million possible colors. The mouse also has an internal memory to store 5 profiles, so as not to lose your settings when changing machines. Of course, everything remains configurable via the Razer Synapse home software. Finally, be aware that this Viper 8K will be available from January 28, 2021 at a price of 89.99 €, via the official Razer website, and at partner resellers.