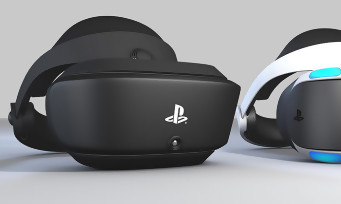 Sony Interactive Entertainment has no plans to give up virtual reality. Very good news for lovers of this technology which is still in its infancy. It must be said that with its more than 5 million copies sold worldwide (figures stopped on January 7, 2020), the first PlayStation VR remains the best-selling virtual reality headset in the world, all brands and competitors combined. So the arrival of a new iteration of this hot accessory isn't much of a surprise, and it was through Jim Ryan that the announcement was made in the first place. It must be said that the current President of Sony Interactive Entertainment was particularly talkative during his interview with the magazine GQ, also revealing the postponement of Gran Turismo 7 to 2022 and the arrival on PC of Days Gone. In the process, Sony unsheathed the first information on this PlayStation VR 2 on
the official blog of PlayStation
, which confirms that it is on PS5 that this mask will turn.
Today, I am pleased to announce that our next generation VR system will be released on PlayStation 5. You will be able to enjoy the ultimate entertainment experience, which will benefit from gigantic advancements. in terms of performance and interactivity. The feeling of presence will be even stronger for players who, once equipped with their headphones, will find themselves more immersed than ever in the worlds of their favorite games.
Among the technical improvements that are revealed at the moment, we learn that the PS VR 2 will still need a cable to function, but that it will be unique. This is indeed quite surprising when we know that the competition is doing everything to free itself from cables, but for the rendering to be the most optimal possible, the PlayStation VR 2 will be connected by a single cable. Likewise, the headset will come with a brand new VR controller, to replace the aging PlayStation Moves. Very good news, especially since Sony promises us ergonomics designed for virtual reality and "key features" for even better immersion. However, you will have to be patient because the development of the helmet is far from over. Jim Ryan specifies that it should not be expected to arrive in 2021, but that the development studios are already working to create new worlds that we can explore in the years to come.
It remains to be seen now what visual improvements will be made, knowing that we had discovered a series of patents in 2019 which revealed a definition of 2550 x 1440 pixels, a refresh rate at 120Hz and an autonomy 5 hours. For this last element, we can already eliminate it since the PS VR 2 will be connected to the PS5 with this single cable. On the other hand, we cross our fingers for haptic feedback and adaptive triggers on the new controllers.