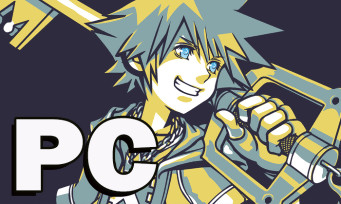 The news might shock purists who swear by the world of PlayStation, but yes, the Kingdom Hearts saga will finally land in the PC world. The announcement was made a few minutes ago, and Square Enix like Epic Games are pleased to share a trailer to formalize this almost incenseful coming we want to say. It is therefore the Epic Games Store which wins the bet since the exclusivity is reserved for its platform with a quantity of games to make us dizzy. The titles that are highlighted on the Epic Games Store page include a lot of games that we list you immediately:
– Kingdom Hearts HD 1.5 + 2.5 ReMIX (49.99 €)
– Kingdom Hearts HD 2.8 : Final Chapter Prologue (€ 59.99)
– Kingdom Hearts III + Re Mind (€ 59.99)
– Kingdom Hearts: Melody of Memory (€ 59.99)
Each of these games will be available from next March 30 and this is further proof that Square Enix continues to open up to the PC world, after allowing the Final Fantasy and Dragon Quest saga to pass on platforms other than PlayStation. So of course, when we see the amount offered on the Epic Games Store, we can only remember that all these titles are already available on PS4 and Xbox One at much more affordable prices.