In the Cayo Perico heist, the player will be contacted by Miguel Madrazo. Maybe this name means something to you and that's to be expected since you had to work many times for his father, Martin Madrazo, whether in the single player mode or in GTA Online. The family of our mafiosi faces a hell of a problem: their official drug supplier, a narco who calls himself El Rubio, has decided to blackmail them with compromising documents. There is no question of losing face or ending up in prison, which is why this problem must be solved by someone you trust: you, us, the player. The objective will therefore be to recover a paper file that is in El Rubio's safe, located in his office which is obviously located in his highly secure villa, itself built on its fortified island. from Cayo Perico. You got it, it won't be easy. Fortunately, apart from the papers, the premises of Miguel Madrazo are full of valuable things that we will be able to steal in passing, in order to quickly inflate his bank account, whether it is money, gold, jewelry. , masterpieces or cocaine loaves. With such a booty to boot, you can imagine that it will not be a piece of cake and you are right.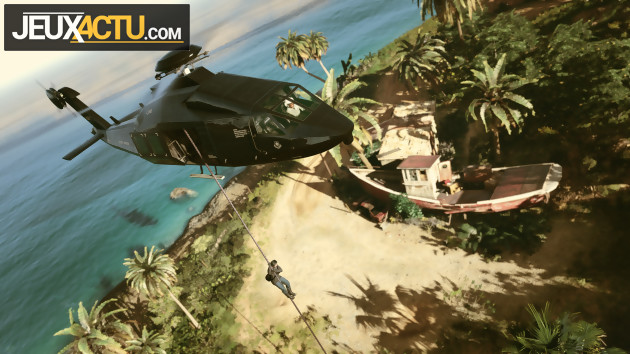 As with any robbery, this one will start with a first contact in a whole new place : The Music Locker nightclub. Dependent on the Diamond Casino, this new establishment is very similar to players' nightclubs, with one notable difference: it is open to everyone. Moreover, on this point, Scott Buchard confirmed the presence of some unique features: " players who have a penthouse at the hotel will be able to benefit from special services, including access to the prestigious VIP area. . ". As always, there was no question of leaving the decks to the first comer, which prompted Rockstar to appoint Palms Trax resident DJ, knowing that the latter will be supported by Moodyman and Keinemusik. The famous Berlin collective will therefore distill their minimalist grooves with a set specially recorded for the game. Tarak Hamad explains that the studio has even gone further: " the mixing material has also been carefully modeled, and all the DJs have gone through mocap sessions so that we can transcribe their movements as faithfully as possible. We want players to feel like they are in a concert ".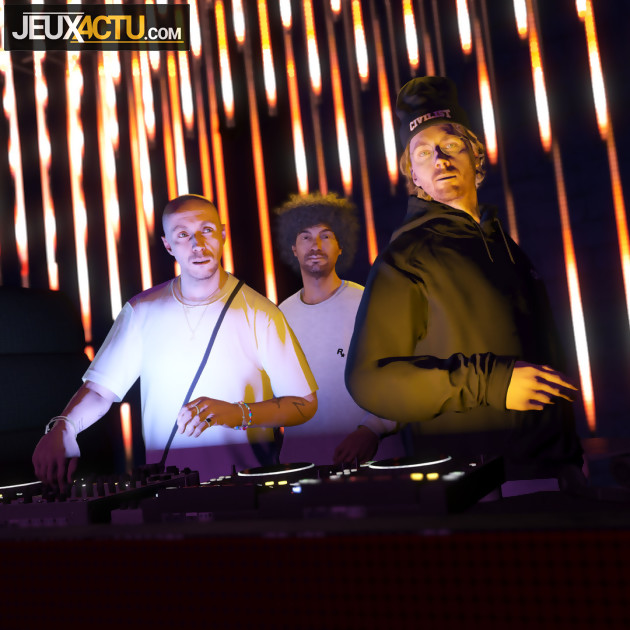 In this place, we will learn that the Madrazo have already thought of a plan for us, and it is rather ingenious. The first step requires pretending to be the Keinemusik turner, which will allow you to go freely to the island of Cayo Perico during the many beach parties organized by the host. Of course, you will then have to be discreet, and go snooping outside the perimeter of the party. Scott Butchard also confirms that we can come and go on the island as many times as we want: " We can spend as much time as we want on the island, and there is areas in which there are no guards, and where you can stay as long as you want. "Tarak Hamad adds to the importance of this scout job:" C ' is in this way that we will be able to have different strategies for the heist, whether it is about safety or the means of coming and leaving. The other essential aspect will be to locate where the loot is, in order to knowing what to pack, and what to leave to minimize risk. ". Among the possibilities, we know that we can even hack the island's surveillance camera network.
Nevertheless, and as always in GTA Online, before being able to launch the robbery itself, it will be necessary to agree to a huge investment. This time, your millions of GTA $ will not go to an arcade or a luxury apartment, but in the purchase of a Soviet nuclear submarine. Be careful, there is no question of having a simple base of operations which will remain a little useless after the organization of robberies, the submersible is indeed a real vehicle that we can move at will all around Los Santos and Cayo Perico as Scott Buchard explains to us: " We can use the submarine as a mobile operations station, and we can take it wherever we want, and even fail it. By the way, in missions CEO, when diving, the player will stop appearing on the map, which is quite practical. We can also fight with missiles, and even torpedoes, even if the hull of the machine is particularly resistant, since it will withstand about twenty blows. ". On the other hand, do not dream: it will be impossible to send the yachts of your enemies to the bottom. Of course, this submersible will also serve as the default infiltration and exfiltration option if ever the scout stage does not appeal to the masses, and you prefer outright action.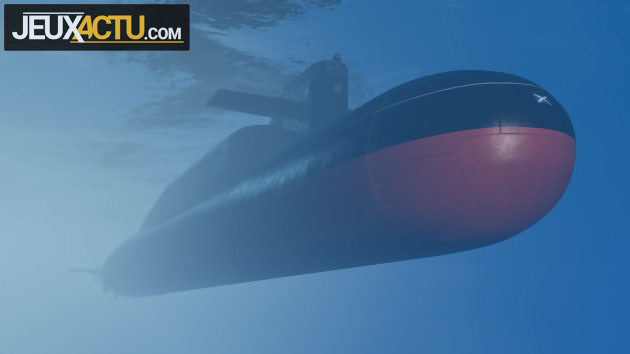 However, the ride on Cayo Perico is quite pleasant. The island is rather large, and offers different atmospheres between the beach party, the air base, the home of El Rubio, and the areas covered with jungle. Small problem, the island being supposed to be in the middle of the Caribbean, it will be impossible to access it in freeplay without interruption from Los Santos as Tarak Hamad explains: " Cayo Perico is located thousands of kilometers from Los Santos, in the Caribbean. This is the first time that GTA has moved away from North America. To get there, we can go through the Los Santos airport, or use the submarine. " . However, as always, it will be possible to invite all your friends there, so that they can help you with the operation. As always, the latter offers a planning phase with preparatory missions playable in freeplay, with a team of up to seven players, while the heist will be played alone or with 4. As always, only a minimum of five preparatory missions are mandatory, but as with the heist of the Diamond Casino, the more industrious you are, the easier the final operation will be, and the more you will leave with bonus loot. For example, some missions will ask us to attack convoys of weapons, so that the guards are powerless, to obtain demolition charges and acetylene torches so that no door can resist us, or even get your hands on a box capable of hacking fingerprint readers. Other options will relate to the means of reaching Cayo Perico, by boat, by parachute via a night jump from a stealth plane and much more.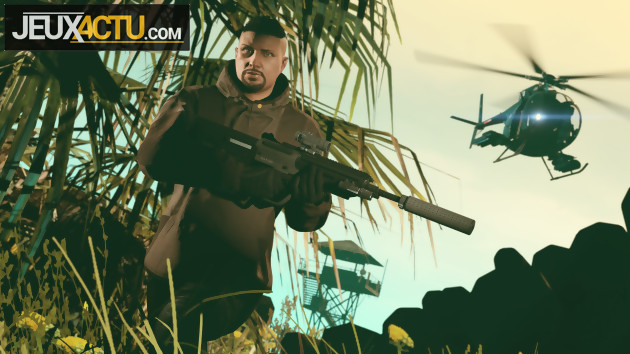 You have understood, this robbery will offer a hell of a number of options, and we will have to try it a bunch of times before finding a formula that is the most optimized, and that allows you to leave with a maximum of loot. The preparatory missions will have to be launched from the PC of your submarine. In fact, for the first time, some of these missions will have a direct link to potential loot, and increasing the amount of loot to be collected. But beware, the taste for profit can be dangerous, because if we miss these missions, the robbery will automatically become more difficult, with many guards, and better equipped. If your friends are away, and the solo seems a bit complicated to you, know that it is always possible to hire specialists, such as a sniper or a drone pilot, in order to have a boost when the time comes. hotter. Be careful, some of these specialists will have to be unlocked by participating in the old activities of GTA Online. Thus, to be able to hire Charlie, you will have to see the content of the Organized Contraband update played, and to have bought a hangar.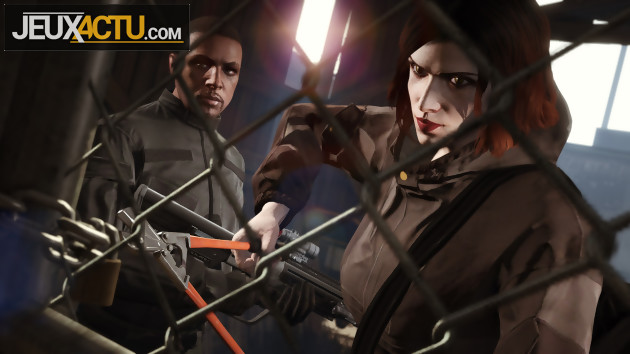 As with every major update, Rockstar has put the small dishes in the big ones, and in addition to this heist, we will be able to enjoy more than 250 pieces of music spread over existing radios, while three new stations are entering the airwaves. Kult FM 77.7 will be hosted by Julian Casablancas (from The Strokes) and David Cross. Still Slippin 'Los Santos will feature tunes from London's underground under the aegis of Joy Orbison, while Music Locker Radio will broadcast sets from the DJs in the basement of the Diamond Casino. Finally, 8 new vehicles are on the program, 2 new weapons, and a lot of new saps. We also picked up a new raised jeep which caught our eye, and which will be widely available according to Scott Buchard: " This Jeep will appear randomly in the population of Los Santos, but it will be in addition available through Warstock for players who wish to purchase it. ". Of course, we also took advantage of this interview to come back to the teaser released a few weeks ago, which contained a nice reference to GTA VI (GPS coordinates that lead to a road in the shape of a VI. According to Tarak Hamad: " It's always impressive how engaged our community is, and its ability to draw conclusions from small pieces, and that's something we love. ". We clarified that these coordinates did come from Rockstar, but the developer didn't give up: " It's very easy to put a few numbers together with group mentality, and then draw conclusions ."